Raspoloživost
Za sve informacije molimo obratite nam se telefonom +385/51/343-059 ili e-mailom na info@topadria.hr
Opis
Hotel Mozart
Hotel "Mozart" is an elegant boutique hotel built in 1894. Mozart, the synonym for a warm and cordial welcome, has been writing the tourism history of the pearl of Kvarner Bay, Opatija, from the very first letters. The Art Nouveau hotel building, which is an architectural monument, is located in the very heart of Opatija, just few steps from the sea and close to the nearby tennis courts and all the main cultural and historical attractions.
The hotel has 26 rooms, two suites and one residential suite. With their classical style furniture they mirror the warmth of the last century atmosphere. Some of the rooms have almost 200years old furniture pieces. The contemporary amenities like air-condition, direct telephone line, mini bar, satellite TV, radio and HI-FI just as wireless internet access insure the modern times comfort.
Standard rooms, evokes splendor and grandeur of the last century, peace comfort and elegance from which the view extends to the beautiful Opatija villas in a green located below of the mountain UÄŤka. Room with a view of nature gives you to relax and recharge your batteries while you feel aroma of coffee and enjoy on view of the beautiful Opatija
Superior room relax with a pleasant atmosphere of secession atmosphere of comfortable superior rooms from which the view extends to the Greenery and Opatija villas and sea from the balcony. Here you can enjoy daily delights of our hotel kitchen watching the magic of Opatija and all unite together in a special and memorable holiday
Deluxe rooms, rooms with sea view and balcony. Feel the breeze from the sea in a pleasant and beautiful sunlit room with Art Nouveau style while you served breakfast in bed and the view extends to the entire Kvarner region and harbor while Mozart coffee awakens you.
Junior suite apartment for two or a family with children, two double rooms connected with a corridor. Each room have a balcony and one bathroom. The balcony extends a beautiful view to the sea and kvarner, perfect for families with childre.
Apartment Sissy beautiful atmosphere stunning color art nouveau furniture, a balcony with a beautiful view of the sky and sea blend. Furniture is a special of all to highlight the living room, a bed with baldachin is just across a bathroom with a Jacuzzi and a terrace that surrounds the whole apartment. There is also bathroom with a shower in apartment
For more information and reservations you can contact us on +385 (0)51 343 059 or send mail.
Check-in
Fleksibilno
Check-out
Fleksibilno
Opremljenost
Air Conditioning
Balcony
Bath
Hairdryer
Heating
Hotel Parking
SAT-TV
Seaview
SPA Zone
Terrace
Wi-Fi
Opatija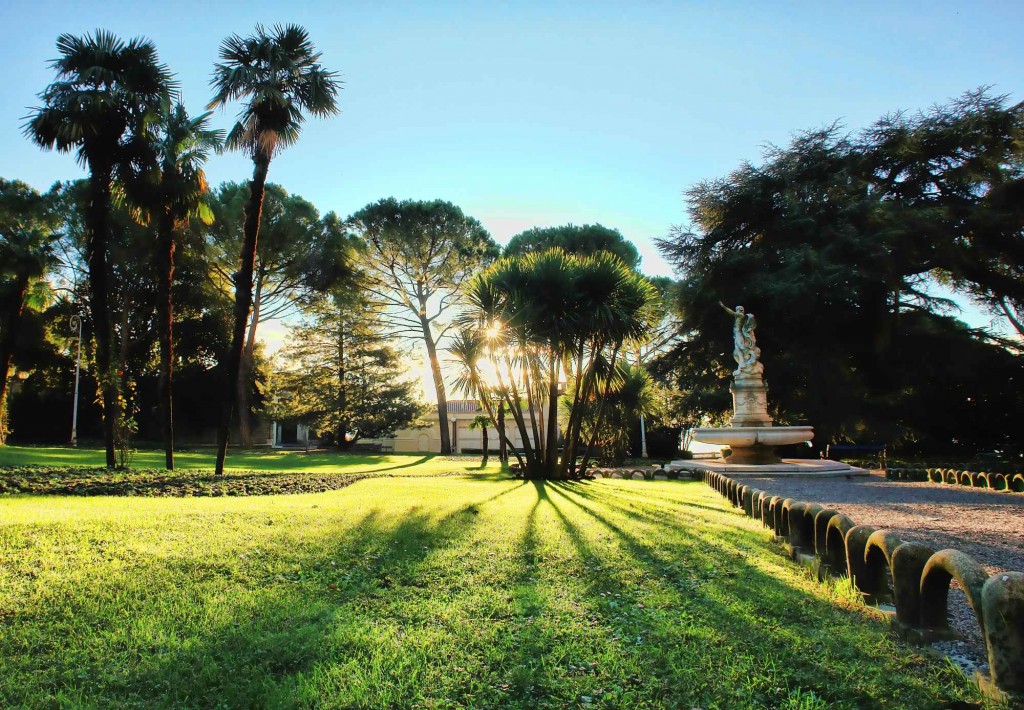 Opatija
Opatija, this elegant tourist destination, lies at the centre of the Riviera with the longest tradition of tourism in Croatia. The very attractive geographic position, enabling its warm seas to be quickly reached from many cities in Central Europe (only about 500 km from Milan, Vienna and Münich), lush green scenery and a pleasant climate (45° 20' north latitude) were some of the main reasons for its beginning and the quick development of its tourism at the end of the 19th century.Built mainly at the turn of the 20th century, Opatija has remained in complete harmony with Nature right up until the present day. Well-maintained public gardens, the illuminated 12-km-long coastal promenade known as the "Lungomare", well-kept beaches and fountains provide a stunning backdrop for the villas and hotels that cater comfortably for up to 6,000 guests.
Due to a relatively constant temperature (winter average 7.0 °C, summer average 21.9 °C), high air pressure and constant circulation of air, the climate in Opatija is relaxing and refreshing. The contrasts of sea and mountains, green parks and blue ocean, old buildings and modern comforts, noisy entertainment venues and quiet destinations for excursions all combine to make Opatija and its surroundings a very attractive tourist resort at any time of the year.
The tourist offering of Opatija includes its congress facilities (over 50 meeting rooms with capacity up to 900 delegates), 11 indoor swimming pools, wellness programmes, a casino, discotheques, a summer theatre with seating for 2,000, carnivals, festivals, and opportunities for shorter trips to nearby surroundings or all-day excursions to the Plitvice Lakes or Risnjak National Park, or even to Venice in Italy.
Sports & nature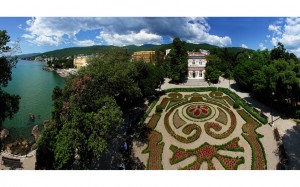 Climate – a moderate Mediterranean climate with mild winters and pleasant summers. Continuous circulation of air and sea aerosol. The average air temperature in summer is 21.9 oC, and in winter 7 oC. The sea temperature in summer goes up to 26 oC. The area averages 2,000 hours of sunshine a year.
Nightlife info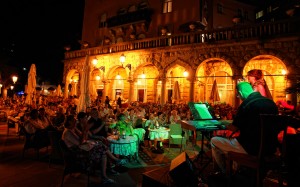 Very interesting and intense.
Culture and history info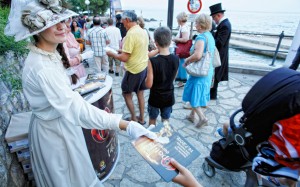 Opatija, often called the pearl of the Adriatic, is one of Croatia's most famous destinations, boasting a tradition of welcoming visitors dating back more than 160 years. Located at the edge of the Mediterranean, on the slopes of Mount Učka gently descending towards the coast of Kvarner Bay, Opatija with its local climate, beautiful architecture, quality hotels and luxurious, well-tended parks and promenades, offers plenty of possibilities for a pleasant stay throughout the year. The notable person who first discovered the magic of Opatija was Iginio Scarpa, a merchant from Rijeka who built his holiday home here in 1844 and named it the Villa Angiolina after his late wife. This event marked the beginning of tourism in Opatija. After that, Opatija started intensely developing under the supervision of the Austro-Hungarian Empire. Director of the Austrian Southern Railway Company Friedrich Schüler and its shareholders wanted to improve passenger traffic to the south. After choosing Opatija as the region's most promising destination, they started building the first hotel in this new bathing and climatic health resort, advertising it widely as the "Austrian Nice". Several important facilities were built alongside the first hotel: a pavilion with indoor pool for warm sea baths, a bathing place with separate areas for ladies and gentlemen, and the 12-kilometre-long coastal promenade from Volosko to Opatija and further to Lovran. The hotel was opened on the 27th March 1884. Its original name was Hotel Quarnero, and it offered its visitors 60 rooms. The second hotel that was built in Opatija after the Quarnero was the Hotel Kronprinzessin Stephanie. In 1885, the Austrian Southern Railway Company organised the first congress of balneologists in Opatija, during which the decision was made to declare Opatija a climatic health resort, which was officially done in 1889. Some of the Monarchy's most eminent physicians opened their sanatoriums in Opatija; numerous promenades and bathing places were being built. This all turned Opatija into one of Europe's most important health resorts of the 19th and the first half of the 20th century, alongside Nice, Karlovy Vary, Cannes and Biarritz. Kings and emperors, writers, philosophers, poets and composers used to stay here – let us mention some of them: the emperors Franz Joseph and William II, the queen of Romania Elisabeth who used to publish poems under the pseudonym of Carmen Sylva, then the empress Sissi, the writers A. P. Chekhov and James Joyce, the ballet dancer Isadora Duncan, and the composers Gustav Mahler and Giacomo Puccini. To see and be seen – this was the motto for those who came to Opatija. After World War Two, Opatija's tourism became more orientated to the summer season and the hosting of conventions. Throughout that whole period, Opatija retained its importance as a destination with something special to offer. Opatija has numerous advantages that will surely entice you – superb convention facilities, quality accommodation, modern wellness centres for relaxation, and last but not least, friendly and professional staff that will do their best to meet all your requirements. Not to forget the area's great gastronomy, offering unique combinations of traditional recipes, modern cuisine and first-class wines.
---
Pročitaj više